Plant Science and Bio Acoustics
Role: CAD Designer, Creative Technologist

Type: Research, Engineering

To learn about plant growth and communication systems I took a plant science course at the NY Botanical Garden, volunteered at NYU Tandon's Urban Food Lab, and conducted research into bio-sensors and physical computing during the Fall 2019. Next, I prototyped modern plant growth systems, equipped with physical computing features that aimed to sustain plant life while taking various measurements from the plant and its physical environment. I made the video above to illustrate an aeroponic system I made.

Interfacing with plants is important to me because they can come off as non-expressive organisms, to me. Coming from music technology, my initial instinct was to use sound in a data-sonification tool to understand different plant bio-emissions. I wanted to map certain plant bio-emissions to sound. These bio-emissions allude to the plant's growth, health and wellbeing and how it is coping with its environment. To interface with plants, I used an accessible signal to capture, one of which is the plant's electric conductivity. The movement of water from the plant's root system into its shoot system, for example, is an environmental factor that could affect the plant's conductivity. In 1968, Cleve Backster claimed to find links between the electric conductivity of the plant and the behavior or mood of its human owner, or a person in proximity to the plant. I wanted to try to replicate these claims. So, I built the open-source MIDI sprout circuit, which converts the electric conductivity of a plant's leaves into MIDI notes that audio software or a synthesizer could play as music. It is my simple way of connecting with some of my plants.

To further investigate Cleve Backster's claims of primary perception in plant life, I plan to use the Emotiv Insight EEG device (when it arrives!!!) as a brain interface that could measure my brain activity in the presence of plants. I will use this data to study correlations between human brain activity and plant bio-chemical and bio-mechanical activities. I hope to draw my own conclusions about plant-human interconnectivity.
Plant Science
Agricultural technology looks to study plant life and the environments that facilitate their growth. To engage with this topic and prototype different plant growth systems, it was necessary to understand everything that happens in between the roots and the shoots of a plant, as its environmental factors change.

I was able to use educational resources from the New York Botanical garden and NYU Urban Food Lab in order to learn about the function of different plant cells and tissues, reproductive organs, protections, and communication systems with their physical environments. I used this knowledge to consider design elements for my one-plant aeroponic system.
Proof of Concept / Rough Design
Next, I used OpenScad to design and render 3D models of the aeroponic object. Unfortunately the ultimaker 3D printers that i used were to small to print the full object, so I had to redesign it to be printed in parts and connected with dowels.
3D Printing and Assembling
Thanks to my friends at New Inc, I was able to 3D print the object and assemble it.
Testing the Waters
The reservoir in a hydroponic or aeroponic system stores water and nutrients. Here, an automatic system delivers the solution to the roots. In aeroponics there is a debate between the effectiveness of misting systems versus spray systems to produce water particles that are large enough to transport nutrients to the roots. I tried both but settled on the spraying system.
Proof of Concept Assemblage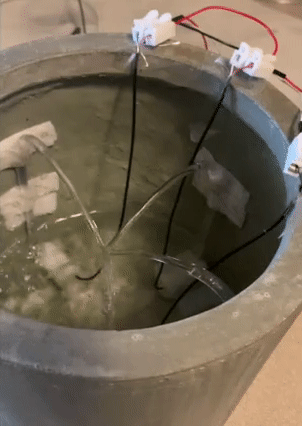 Data Sonification
Data visualization and data sonification are two ways to represent data in ways that can be perceived, experienced, and interpreted by viewers who can then draw conclusions about the data. This study has to do with representing information in visual or sonic signals that can be transmitted between receivers and emitters. It covers areas like evolution and the biomechanics that are involved with communication, linguistics, sensory perception, neuroscience, and more. North American sociologist, W. E. B. Du Bois, for example, spoke about Data Portraits in order to visualize Black America and question how visualizations represent the humans, stories, and contexts behind the data. Avante-garde artist technologists like Walter Ruttmann and Hans Richter created visual music works with stop-motion animation to represent the rhythmic, tonal, and timbral character of a composition and are some early examples of audio visualization.

Coming from music technology, I wanted to study plant bio-acoustic systems that emit acoustic signals. To begin, instead I started with a more easy to capture plant signal--its electric conductivity. I built the open-source MIDI sprout circuit to convert the electric conductivity of a plant's leaves into MIDI notes that audio software or a synthesizer could play as music.

In the future, i would like to conduct experiments with EEG equipment to study correlations between human brain activity and plant bio-chemical emissions. I hope this can bring light to plant-human interconnectivity.
Latest Iteration
I wanted to take more of ReadyMade approach to this hydroponic/plant science research and prototyping. I used found objects and electronics to create an automated Flood & Drain hydroponic system.